1800-209-5292
Discover Kaya's Thermage Treatment To Prevent Sagging Skin
All you need to know about Thermage
Before and After Results of Thermage Treatment at Kaya
Kaya's Thermage Before and After Precautions
Why choose Kaya's Thermage treatment?
What is Thermage
Kaya's got the answer if you want an effective non-surgical anti-ageing treatment! Thermage is a non-invasive cosmetic procedure designed to address various signs of ageing, such as sagging skin, wrinkles, and fine lines. During the treatment, a specialized device delivers controlled radiofrequency energy deep into the skin, stimulating collagen production and remodelling existing collagen fibres.
Introducing the dermat-led Thermage procedure. A skin tightening treatment that involves no surgery, no injections, and almost no downtime!
Thermage is a USFDA-approved technology-led laser skin tightening treatment. It helps reduce the visible signs of ageing like wrinkles, fine lines, and facial sagging skin. It aims to improve skin regeneration & boost collagen production. Thermage has a long-lasting effect on your skin to maintain your youthful look!
What is the Thermage process?
Expert dermats conduct Kaya's Thermage facial treatment. It involves using USFDA-approved radio frequency technology. The technology heats the deeper skin layers while cooling the surface skin layer. This procedure uses a non-invasive machine that emits radio frequency for skin-tightening. The intense heat stimulates your skin's renewal process, boosts collagen production, and tightens existing collagen.
Over a while, your sagging or wrinkled facial skin is renewed & rejuvenated with smooth & firm skin with an enhanced texture & tone.
Can Thermage help ageing, sagging or wrinkled facial or body skin?
Theremage is the best radio frequency-based laser skin tightening treatment that is the perfect choice for ageing skin. Here are some ageing concerns that a Thermage treatment can effectively diminish:-
Wrinkles on forehead
Fine lines around the eyes
Sagging or wrinkled facial skin.
Who can get the Thermage treatment?
While all skin types can undergo this non-invasive & safe skin lifting treatment, Thermage is recommended for people with ageing & sagging skin or those that face skin-laxity concerns like wrinkles, fine lines, sagging cheeks & jowls.
Chemical Peel Benefits
Here are some excellent benefits of getting a chemical peel treatment:-
Pigmentation:
A chemical peel is best for lightening dark spots, tan, hyperpigmentation & blemishes for even skin tone.

Acne:
A chemical peel is also best for combating deep & stubborn acne scars.

Ageing signs:
Ageing signs like fine lines & wrinkles can be diminished with a replenishing chemical peel.

Rejuvenation:
You get one step closer to a luminous glow with these chemical peeling treatments that ensure your skin improves from within.
Our Specialised Chemical Peel Treatment
Our experts have designed skincare solutions with extensive scientific research and cutting-edge technology to offer you the best possible results.
Insta Clarity Peel
Looking for an effective and safe way to improve your skin? Consider the Insta Clarity Peel at Kaya. This chemical peel uses three potent botanical actives. It reduces excess melanin production and stimulates healthy cell turnover.
The chemical peel helps exfoliate the skin, remove dead cells, and reduce wrinkles. It has a natural brightening effect for evening out your skin tone & texture. The Insta Clarity Peel reduces the visibility of dark spots, skin marks, and pigmentation.
So, you can now bid adieu to patchy skin and embrace a smooth complexion with this peel treatment. Experience instant clear skin with Insta Clarity peel with minimum downtime.
Insta Glow Peel
The Insta Glow Peel at Kaya is an instant rejuvenation peel with no downtime! This "party peel" allows you to indulge in mild exfoliation of the top skin layer. It delivers nourishing ingredients deep into your skin that offer you instant results! Heading to a party? The Insta Glow peel is the perfect way to prepare for it!
Before and After Results of ThermageTreatment at Kaya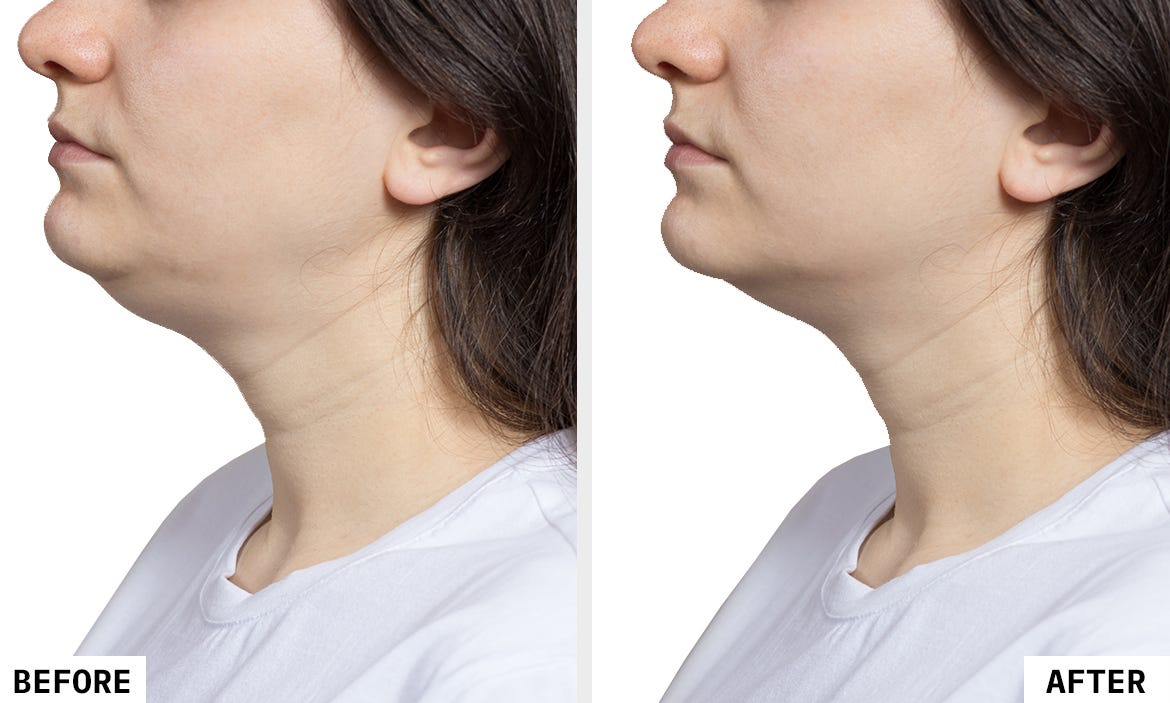 Kaya's Thermage Before and After Precautions
The following are the before and after precautions of the Thermage treatment -
Before Treatment
Avoid facials, bleaching, or skin treatments at least 5-6 days before and after the skin tightening procedures.
After chemical peel treatment
You may experience mild discomfort during the procedure. You may likely experience redness on the skin for a few hours after the procedure.
The Journey with Kaya
Consultation
At Kaya, our team of dermatologists understands the uniqueness of Indian skin by going through skin analysis to recommend solutions.
Pre-preparation
In the consultation phase, based on the skin assessment, the dermatologists will recommend precautions or activities to ensure the procedure is smooth, successful, and hassle-free.
Treatment
Kaya Clinic's world-class hospitality, technology, and dermatologists will ensure the procedure is executed with care and precision.
Post Treatment Care & Maintenance
Once the procedure is done, based on the consultation and need for the treatment, the dermatologists at Kaya Clinic will recommend post-procedure care routines and precautions to maintain the results further.
All you need to know about Thermage
Why choose Kaya for a Thermage procedure?
At Kaya, we prioritize every customer's skin health above all. That's precisely why our expert dermats ensure the best quality radio frequency facial treatment for you by applying their years of experience & clinically certified skin tightening procedures.
Our super-effective Thermage procedure is a clinically-certified treatment supervised by our skin specialists. It is carried out at our UVC-sanitized Kaya clinics across India. We ensure complete safety by following 60+ WHO-compliant safety measures. So, drop all worries and choose to get the non-invasive & painless Thermage treatment at Kaya!
All you need to know about Kaya's Insta Clarity Treatment
How Does Q-Switch Laser Treatment Work?
Q-switch lasers deliver clinical light with powerful energy in the affected areas. The light energy is absorbed by the pigments, which are then fragmented within the skin's tissues. This procedure leaves you with smooth and even-toned skin.
What are Q-Switch Laser Treatment Benefits?
Q-switch laser treatment has the following benefits-
Internally heals the skin tissues to smoothen out the surface.
Removes dead skin cells, thus gently exfoliating the skin for an even-toned complexion.
Deeply cleanses the skin.
Boosts collagen production for younger-looking skin.
How often a Q-switch laser treatment can be done?
The frequency of Q-switched laser treatments can vary depending on the specific treatment being performed, the condition being treated, and your individual skin's response. Working closely with Kaya's qualified dermatologist and specialist is essential to determine the optimal treatment schedule for your needs. Generally, here are some guidelines:
Scar and Sunspots:
Kaya's Q-switched laser treatments may also be spaced around 4 to 8 weeks apart for therapies targeting pigmented lesions, such as sunspots or age spots.

Rejuvenation of Skin:
Kaya's Q-switched laser treatment allows time for the skin to heal and for collagen production to be stimulated. Sessions could be spaced around 4 to 6 weeks apart.

Acne Scars and Other Scarring:
It's not uncommon for sessions to be spaced 6 to 8 weeks apart, but Kaya's dermatologist will create a personalised plan based on the type and severity of your scars.
Q-Switch Laser Treatment Cost in India at Kaya Clinic
At Kaya, We are committed to providing our customers with practical solutions for pigmentation, helping them restore their natural radiant skin and youthful look. We proudly present our specialised Insta Clarity Q-switch treatment designed to deliver remarkable results, all at an affordable cost.
FAQs
What are the side effects of thermage?
Here are some minimal & temporary side effects you can face after the Thermage treatment:-
Skin redness & irregularities.
Tingling sensation in the treated area.
Pain
Bruising
Can Thermage get rid of wrinkles?
Yes, Thermage can help with wrinkle removal. It is a non-surgical process that heats the deep layers of the skin with radiofrequency energy. This tightens the skin and increases collagen production, which can help decrease wrinkles' appearance.
Thermage, on the other hand, cannot eliminate wrinkles. Thermage treatment results will vary based on the individual and the severity of the wrinkles.
What skin types can get thermage treatment?
A thermage procedure is recommended for people with all skin types, especially ageing skin. People who notice early signs of ageing, such as wrinkles, fine lines, crow's feet, etc., can get the Thermage anti-ageing treatment to redeem a tight, youthful complexion!
How long does Thermage facial treatment last?
The Thermage treatment at Kaya has long-lasting skin-lifting effects on your skin. This skin tightening laser treatment lasts 6 to 9 months at a stretch after getting the radio frequency facial. We recommend getting the Thermage treatment at least twice a year for the most rewarding & youthful skin!
What is the thermage treatment cost in India?
You can review the thermage treatment cost card at the Kaya website.
Where is a thermage treatment clinic near me?
You can find a UVC-sanitized Kaya clinic with great reviews right around the corner of your home! A skin tightening thermage treatment can be booked at our Kaya clinics here. Take the first step to get a firm, youthful & ageless complexion with a thermage facial at Kaya!
Is there any downtime with regards to Thermage Treatment?
Thermage treatment is associated with less downtime. You may suffer some redness, swelling, and bruising for a few days after the treatment. You should be able to resume your normal activities right away.
Here are some things you can do to reduce downtime following Thermage treatment:
For 20 minutes at a time, apply a cold compress to the affected area.
For the next 24 hours, avoid intense activities.
Apply sunscreen to the treated area to protect it from the sun.
Who is a suitable candidate for Thermage Treatment?
Someone who wants to improve the appearance of sagging skin and wrinkles is a good candidate for Thermage treatment. The procedure is most effective for patients with mild to moderate skin sagging.
Here are some additional reasons that may qualify someone for Thermage treatment:
Overall good health
There is no history of keloid scarring.
Expectations for treatment outcomes that are realistic
If you are considering undergoing Thermage treatment, consult a skilled medical practitioner to discover if you are a good candidate.
What's the ideal age for thermage treatment?
Thermage treatment is most suited for those aged 30 to 60. This is because, at the age of 25, the skin begins to lose collagen production, and Thermage can help to increase collagen production and improve the appearance of drooping skin and wrinkles.
Thermage, on the other hand, can be used at any age and is a fantastic alternative for people who want to prevent the indications of ageing or improve the appearance of their skin after surgery or damage.
To determine whether Thermage is correct, consult a qualified medical expert. They can examine your unique needs and goals to see if this treatment is proper.
What are the factors that may influence the result of thermage treatment?
Here are some factors that may influence the results of thermage treatment:
Here are some additional reasons that may qualify someone for Thermage treatment:
The severity of your skin wrinkles- Thermage therapy is less likely to produce remarkable improvements if your skin laxity or wrinkles are severe. Even if you have severe skin laxity or wrinkles, Thermage can still be a practical approach to improve the appearance of your skin.
Your Lifestyle- Your lifestyle choices can also impact the outcomes of Thermage treatment. Smoking and excessive sun exposure can harm your skin and diminish the efficacy of Thermage.
Your Skin Type- Thermage works best on fair skin. It can, however, be used on darker skin with a lower energy setting.
Your Expectations- Having realistic expectations regarding Thermage therapy results is critical. Thermage cannot wholly remove wrinkles or sagging skin, although it can improve their look.
Can I return to work immediately after thermage treatment?
Yes, you can return to work immediately following a Thermage treatment. The treatment is non-invasive and requires little recovery time. While you may have some moderate redness or swelling, it usually goes away quickly, enabling you to continue your normal activities.
However, if your profession requires a lot of physical activity or exposure to heat, you should give yourself a day or two to recover. Always seek personalised advice from your practitioner based on your treatment and specific circumstances.
Great experience as of now
Friendly behaviour and On point Service. Happy Customer!!!
My experience at kaya has been really good. The technicians are well trained, make you feel comfortable and are very professional. The results have also been excellent.
After one year of receiving acne treatment at Kaya Clinic, I can confidently say it has been a great experience. The staff, especially the doctor, were excellent and provided exceptional service.
Great service! employee in this outlet, very trained and skilled.They took care to do the treatment at a comfortable pace, offered aftercare advice and suggestions on how to maintain after treatment
Good ambience, Dr very supportive and we'll behaved, service quality very good, thanks Kaya.
Great experience as of now
Happy and satisfied with the treatment and therapist are very supportive and helpful,also follow the safety hygiene very happy with the team work
The experience was really great. The treatment procedure is good and staff has been cooperative.
Great experience as of now
Professional, well-trained staff. Proper hygiene is maintained. Everyone ensured I had a comfortable experience.
The service is excellent! They really take care of their client. Love coming here
Great experience as of now
Amazing service ... with excellent staff.
Had a great experience with kaya.