1800-209-5292
Pimple Scar Treatment to Discover Flawless Skin
What are the different types of Acne?
What are the major causes of Acne?
Kaya's Holistic Approach to Treat Acne
Get a Long-term Solution for Acne with Kaya's Services!
Specially Formulated Kaya's Products for Effective Results!
About Acne
Did you know that acne has been around forever and has nothing to do with our modern lifestyle or eating habits? In numerous works of literature, from Bible to Shakespearean plays, many references have been to acne or, as it was called, "skin eruptions."From biblical times and the Shakespearean era to modern times, acne has always been considered weird, inhuman, and even devilish. This perception makes us uncomfortable and lowers our self-esteem. Over the years, acne has had many definitions under its belt. Well, not just definitions; it's also referred to by different names and types. That's why it could be a bit confusing for us to understand which is which.
So, let's put down our Aristotlean hats and start understanding acne scars for real this time.
What is acne?
Acne is a build-up of oil called sebum and dead skin cells in the pores of our skin. These pores are tiny holes in our skin from where hair starts to grow. And the sebum helps moisturize our hair and skin. So, this excess buildup of oil, dirt, and dead skin cells in pores leads to clogging. This clogging commonly causes bumps, pimples, whiteheads, blackheads, blemishes, acne spots, and scars on our face, chest, and back.
Acne scars and spots are not just limited to teenagers; adults also have acne more often than we think.
What are Acne scars?
Now that we are familiar with acne, let's understand some more associated concerns. In that regard, the most common one is acne scars. These are raised and depressed areas of our skin left behind after acne has healed completely. It's like a ghost of dead acne that stays back to haunt us more. These scars are basically of two types:
Hypertrophic Acne Scars- These acne scars are also known as keloid scars. Hypertrophic acne scars on our skin get thick because of excess collagen production during acne healing. This type of acne scar is common in people with darker skin tones.
Atrophic Acne Scars- Atrophic acne scars get depressed or sunken into our skin because of a loss of tissues during acne healing. These acne scars can be classified into icepick, boxcar, and rolling scars.
Who gets Acne Scars?
You are likelier to get acne scars when:
You have inflammatory swollen, reddish, and painful acne.
You don't treat inflammatory acne
You pick, pop, or squeeze acne
You have a blood relative with acne scars
What is Blemish?
This generic term can envelop concerns such as dark spots , age spots, acne spots, wrinkles, freckles, sunburn, and sun damage. So, any spots or freckles on your body can be primarily considered blemishes.
Who gets Blemish?
You are more likely to get blemishes when:
You don't wash your face regularly,
You avoid eating healthy foods,
You don't shampoo your hair,
You use a heavy moisturizer or oily sunscreen
Apart from these usual reasons, there are hormonal imbalances during puberty, the menstrual cycle, and menopause can also cause blemishes on your face, chin, and other parts of the body.
What are the different types of Acne?
Now that we've understood the definition of acne, it is time to get to its different types and symptoms. Acne can be classified into fungal, cystic, hormonal, and nodular acne. Let's further elaborate on its types. We know how much you love it.
Fungal Acne- This mild acne occurs due to yeast overgrowth in our skin pores due to moist skin, weak immunity, tight clothes, and tropical environments. This acne looks like skin breakouts dispersed in a part of our skin. It can cause itchiness and stinging in our skin.
Cystic Acne- This severe form of acne causes deep pus-filled pimples, making it much more challenging and messier for us to eliminate. It mostly happens because of bacteria clogging our skin's pores. If not treated well, it can lead to permanent scars and spots on our skin/face.
Hormonal Acne- This moderate form of acne occurs because of an overproduction of sebum (a substance that makes our skin oily) because of fluctuations of hormones such as estrogen, progesterone, and testosterone in our bodies. These hormones fluctuate because of the menstrual cycle, pregnancy, menopause, diabetes, stress, overdosage of carbs, fats & lactose, and other unhealthy lifestyle practices.
Nodular Acne- This severe acne occurs when bacteria get trapped in our skin. It causes lumps or knots (nodules) to form deep under your skin. These lumps appear on the skin as red bumps. Moreover, they usually don't have blackheads or whiteheads at the center of acne.
Less Common types of Acne
There are less common types of acne, such as whiteheads, papules, pustules, and blackheads. We might as well take a look at them too.
No matter how many types of acne exist, they all are painful, irritating, and lower our confidence. But we can tackle them effectively by following the best skin care treatment plans.
What are the major causes of Acne?
Though our skin might get one, two, or more types of acne, their causes will always be similar. Once we know the specific cause, we can treat acne better. So, let's get to them:
Sebum- As mentioned in the definition of acne, the pores from which our hair grows get clogged with Sebum, a kind of oil that acts as a protective barrier for your skin against UV radiation. This clogging happens more than usual because sebum is secreted a lot by our skin glands. Thus, sebum is the most common acne-causing factor.
Bacteria- Our skin houses many types of bacteria with unpronounceable names. They don't just live there rent-free; these microorganisms and microbes protect us from harmful pathogens, water loss, and skin damage. But sometimes, these bacteria get clogged with oil in the pores of our skin, which leads to acne of various kinds.
Dead Skin Cells- You must know that our skin comprises living cells, and often skin sheds dead cells to make way for newer cells. Sometimes when our skin releases deal cells, they get stuck in the pores of our skin, which leads to clogging, i.e., acne.
These factors lead to swelling, skin inflammation, discoloration like redness around pimples/acne scars, and pain.
What are other Factors that Contribute to Acne & Pimples?
Apart from these genetic and natural factors of acne, other factors in our surroundings can trigger acne & pimples or make them worse. So, let's get to them as well.
Diet- If we eat a lot of cakes, pastries, candies, milk, cereal, and cheese-based food, then we're more likely to get acne or pimples on our skin. This happens because these diets contain high amounts of glucose and glycemic carbs. If we start to control our diet, we can reduce the impact of acne on our skin.
Friction- Our skin gets moist and choked up when wearing tight, unbreathable clothing items. The tight fittings can trap bacteria under the skin, further leading to inflamed acne.
Environmental Factors- Various pollutants like dirt, dust, and other chemicals can get clogged up in the pores. So, the pores of our skin are the most sensitive part when it comes to acne.
Cosmetics & Beauty Products- Heavy moisturizers, lotions, and creams on oily skin can also clog pores and cause acne. So, knowing our skin type and what products it needs is essential.
It is important to note that these factors can vary from person to person, and it may take some trial and error to determine the specific factors causing or worsening your acne.
Kaya's Holistic Approach Towards the Acne
We at Kaya understand how acne can hamper our self-esteem and confidence. It also impacts mental well-being because we worry a lot about it. That's why Kaya brings you its 360-degree approach to root out this concern. Our approach includes a blend of products and services to give roundabout solutions for your acne-prone skin. These acne removal treatments are customized and personalized based on your skin type and the type of acne.
Get Long-term Solution for Acne with Kaya's Services!
Our dermatologists thoroughly analyze your skin to root out this problem. With such a detailed analysis, we can identify the actual cause of your acne. After which, we provide a combination of advanced peels, masks, cleansers, and medications customized just for your skin. Our dermatologists also offer consultations and suggestions regarding your diet and other skin-related dos and don'ts. This thorough treatment and care ensure minimized post-acne scarring and pigmentation on your skin.
So, let's start with Kaya's services for treating various kinds of acne.
Rapid 360-degree Acne Clear System
It begins with a consultation with our dermatologists for Acne and Blemish, which includes suggesting an advanced homecare system called Tri-active Clear System that includes Black Peel, Salicylic Peel, and Lactic Peel.
Different Ingredients and benefits it contains
Aectic Acid - It is anti-inflammatory and anti-bacterial, which prevents irregular and unnecessary clogging of pores and discoloration of your skin.
Jasmonic Acid- This prevents exfoliation and prevents skin breakouts and roughness.
Potassium Iodide- Faster recovery of wounds, further inflammation, and infection around the acne spot.
Salicyclic Acid- Removes all the excess oil glands and surface oil and disinfects your skin to prevent more acne formation.
Before & After Kaya's Rapid 360-degree acne clear system
Purpore Clear Skin
Moving on to our advanced acne removal treatment. This is formulated to target & take care of acne-causing problems at their originating stages. It targets the bacteria that reside within the pores of your skin. This skin care process is conducted to develop facial skin care that deals with toxins and gives out necessary moisture and conditioning to your skin.
We provide a more personalized care so that your skin goes through various nutritional nourishments-
We begin with applying a tea mask on your face. The anti-oxidants in the tea-mask help in soothing inflamed and irritated skin.
Then, a serum is applied to extract all the dirt, pollutants, and impurities from your skin pores.
Salicylic acid treatment reduces oil buildup and clogging when given to your skin.
Sea mud mask's rich minerals help deep clean your skin, ensuring no bacterial clogging inside hair follicles.
After exhaustive treatment, calming mask with buttermilk and tea blend helps retain skin moisture and health.
For overall hydration, we provide Porphyridium Complex (micro alga) to help control excess oil and prevent dryness and flakiness.
Kaya Acne Scar Free Plus: Dermaroller
This advanced service helps remove acne scars and gives you clearer skin. Dermaroller pierces the outermost layers of your skin at a depth of up to 1.5 mm to enforce collagen buildup. This increased production of collagen helps in the permanent reduction of acne scars. It also includes potent Vitamin C and Glutathione, giving your skin an overall refurbishing effect. To get the most out of this treatment, four sessions are required with a gap of 8 to 10 weeks between 2 sessions.
Who's it for?
Our Dermaroller acne removal treatment is suitable for all skin types, from oily to acne-prone. But If you have skin problems like psoriasis and eczema or a history of blood clots, you should consult with our dermatologist before opting for this treatment. Moreover, if you're using a derma roller without supervision, active acne & warts can spread from one part to another of your skin.
What type of skin?
It is mainly recommended for all skin types undergoing hyperpigmentation, acne scars, and fine lines.
Post Treatment Care
You shouldn't work out or sweat for at least 24 hours after using a derma roller. And don't exfoliate or use acids on your skin for at least three days. Wait until your skin is healed completely.
Before & After Kaya's Laser Resurfacing
Subcision and Punch Elevation
These are other services our dermatologists provide in our clinics. It involves surgical removal of your acne scars and depression. It will give you the desired results with the above-mentioned services.
Who's it For?
What type of skin?
It is mainly recommended for acne-prone skin with moderate to severe acne.
Before & After Kaya's Subcision and Punch Elevation
Your Journey with Kaya
Consultation
At Kaya, our team of dermatologists understands the uniqueness of Indian skin by going through skin analysis to recommend solutions designed for the best efficacy.
Pre-preparation
In the consultation phase, based on the skin assessment, the dermatologists will recommend precautions or activities to ensure the procedure is smooth, successful, and hassle-free.
Treatment
Kaya Clinic's world-class hospitality, technology, and dermatologists will ensure the procedure is executed with care and precision.
Post Treatment Care & Maintenance
Once the procedure is done, based on the consultation and need for the treatment, the dermatologists at Kaya Clinic will recommend post-procedure care routines and precautions to maintain the results further.
Specially Formulated Kaya's Products for Effective Results!
We are motivated to bring you scientifically oriented products to help you unlock your best version and feel confident about your skin. Our products are specially formulated to fit your daily usage and make you a wholesome skincare routine.
Advanced Acne Care Kit
Our Advanced Acne Care Kit includes products that protect entirely against acne. It is best for oily, acne-prone skin, and combination skin. It comes with products that offer immense benefits to your skin.
Cleanser- Helps cleaning of your skin from within by removing layers of dirt, oil, and other impurities from your skin. This also prevents further breakouts & dryness. So, if you're looking for something that keeps your skin oil-free and shiny.
Toner- It is a non-alcoholic toner with Mandelic acid that gently unclogs the pores of your skin. Additionally, cucumber extracts, witch hazel, and rose helps in unclogging pores and reducing skin irritation and inflammation.
Nourisher- It's not a heavy moisturizer. It is infused with rich aloe vera & rose extracts, and almond oil does not clog your pores.
Spot Corrector- It helps dry the acne overnight and yields prompt results. A perfect blend of Glycolic and Salicylic acid reduces post-acne irritation and inflammation.
In the form of a how-to guide/manual' of that product, which we've talked about in the form of 60-90s videos*
Results After Using Kaya's Advance Kit
Kaya's Acne-Free Range
You can also get the above-mentioned products outside the kit under our Acne Free range, which includes a purifying toner, a cleanser, a serum , a cream , and a nourished.
These products are suitable for oily, acne-prone skin and combination skin.
Post-treatment Care
You should avoid exposing your skin to direct sunlight. UV rays reduce the efficacy of a product and worsen inflammation. You should also avoid using makeup or cosmetics that contain alcohol, astringents, exfoliants, etc. in them.
Kaya's Face Mask
Anti-oxidants in our charcoal and tea tree mattifying face mask also help in soothing acne, reducing skin inflammation & irritation, and retaining your skin's moisture.
Are there any side effects of Kaya's dermal fillers?
Kaya's dermal fillers have no major side effects except a little redness around the injected areas for some time.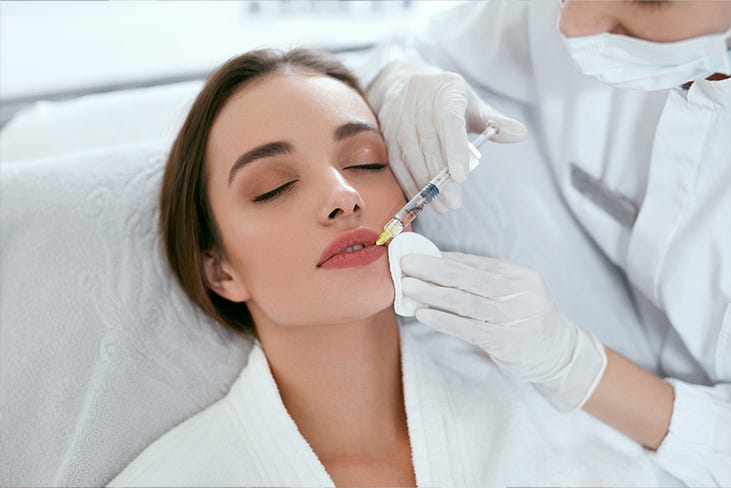 FAQs
Which treatment is best for acne skin
Before choosing the best acne removal treatment for your skin, you need to know whether the treatment offers holistic & roundabout treatment for your acne-prone skin. We bring our specially curated services and products to give you the best acne removal treatment.
Why is my skin so acne-prone?
There could be many common reasons, from genetic/biological to other unnatural factors, that can make your skin acne-prone. You might have significant cystic and bumpy acne, but that doesn't mean you can't completely treat and root them out. Following a holistic skincare routine suggested by Kaya's dermatologists, you can feel confident and liberated again.
What is the fastest way to cure acne?
Some products, such as our Advanced Acne Care Kit, offer effective results within a few weeks of usage. It also includes our services, such as Subsicion and Punch Elevation which offer surgical treatment to your acne-prone skin. While some products in the market claim overnight efficacy, you shouldn't be attracted to these empty promises.
What are the four types of acne?
Regarding sizes and standard nomenclature, acne is classified as blackheads, whiteheads, pimples, blemishes, pustules, bumps, papules, and milia. But clinically, they are classified as fungal, cystic, Hormonal, and nodular acne. Different types of acne occur on different skin types. Our dermatologists can help you pick the best acne removal treatment in India.
What is the root cause of acne?
In all types of acne, whether due to genetic or unnatural causes, the root cause is always the same, i.e., clogging of pores of your skin. This clogging could happen for various reasons, from sebum (oil) secretion, bacteria, and dead skin cells, to other environmental factors such as tight clothing, moist & humid conditions/climate, and sugary & carb-loaded diets.
How do I know if my acne is hormonal?
Hormonal imbalance in our bodies mainly occurs during adulthood and causes regular cystic acne, blackheads, and whiteheads on the face, nose, and neck region of our skin. Our skin care experts and dermatologists can help you know more about your skin's acne.
Which cream is best for acne?
A Cream containing Benzoyl peroxide and alpha hydroxic acid works as an antiseptic to reduce the number of bacteria on the skin's surface. It should also contain Salicyclic acid, Acetic acid, and zinc PCA. These ingredients help provide a roundabout solution that makes it the best cream for acne.
What is the best acne-prone skincare routine?
What's the best acne-prone skincare routine for you depends on your skin type and the type of acne it is infected with. So, what's best for you might not be best for someone else. Our acne-free range includes products that provide advanced care to your skin. We also provide services for more personalized and clinical treatment for acne.
Great experience as of now
Friendly behaviour and On point Service. Happy Customer!!!
My experience at kaya has been really good. The technicians are well trained, make you feel comfortable and are very professional. The results have also been excellent.
After one year of receiving acne treatment at Kaya Clinic, I can confidently say it has been a great experience. The staff, especially the doctor, were excellent and provided exceptional service.
Great service! employee in this outlet, very trained and skilled.They took care to do the treatment at a comfortable pace, offered aftercare advice and suggestions on how to maintain after treatment
Good ambience, Dr very supportive and we'll behaved, service quality very good, thanks Kaya.
Great experience as of now
Happy and satisfied with the treatment and therapist are very supportive and helpful,also follow the safety hygiene very happy with the team work
The experience was really great. The treatment procedure is good and staff has been cooperative.
Great experience as of now
Professional, well-trained staff. Proper hygiene is maintained. Everyone ensured I had a comfortable experience.
The service is excellent! They really take care of their client. Love coming here
Great experience as of now
Amazing service ... with excellent staff.
Had a great experience with kaya.