1800-209-5292
Experience Smooth and Lasting Results with Laser Hair Removal at Kaya
What is Kaya's LHR treatment?
Before & After the LHR treatment
Process of LHR Technology Work
Why choose Kaya for LHR Treatment?
Benefits of Kaya's LHR Treatment?
What is Kaya's Laser Hair Removal Treatment?
Laser hair reduction, popularly known as Laser Hair Removal, is an aesthetic procedure to reduce or eliminate unwanted body hair. In the active lifestyle, it is barely possible for individuals to find the time to practice a regular self-care regime, especially getting rid of unwanted hair on the chest, back, arms and legs can bother. With Kaya's Laser Hair Removal treatment, getting hair-free skin is no longer a pain taking task.
Laser Hair Removal treatment at Kaya is an advanced and effective method of reducing unwanted body hair. This technology works on the hair follicles by targeting pigments in the body's hair. During this procedure, the laser's primary target is the melanin pigment in the hair follicles. Melanin is responsible for giving hair its colour. A laser used for hair Removal doesn't impact the pigment of the skin it only gets absorbed by the hair melanin. The results transform longer, darker, and thicker hair into fine, thin, and light hair. We at Kaya use advanced laser treatment for hair removal, which is safe for the Indian skin type.
Kaya's Laser Hair Reduction service has become the gold standard destination across India for both men and women. As a pioneer in LHR (Laser Hair Removal) services, Kaya employs state-of-the-art technology using US-FDA-approved laser machines to achieve long-lasting hair reduction results.
Kaya's Laser Hair Removal Treatment: Before and After Results
Laser Hair Removal Treatment: Before & After Precautions
Here are some before and after tips for getting a laser hair removal treatment.
Before laser hair removal treatment
Avoid waxing, threading, shaving, and bleaching on your chest, legs, abdomen, and upper body back about 3 weeks before laser treatment
Avoid Sun Exposure For 7 Days
Keep your skin moisturized by applying of correct skin moisturiser
Check with our treatment specialist to avoid any other skincare products or actions
After laser hair removal treatment
Avoid taking a hot water bath for 24 hours post-treatment.
Avoid the application of cosmetics products or make-up in the treated area
Apply sunscreen on exposed skin every 3 hours
Apply moisturiser soothing lotion 3-4 times for 3-4 days post the session
Call the Kaya clinic dermatologist for any discomfort!
Laser Hair Removal is done by Expert Dermatologists at Kaya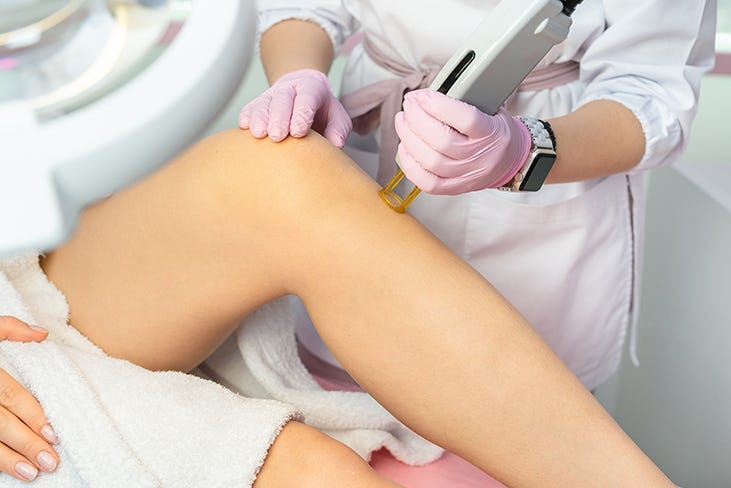 What is the Process of Laser Hair Removal Treatment at Kaya?
The science behind this effective Laser Hair Removal treatment lies in the principle of Photothermolysis. During the procedure, the laser of a specific wavelength emits light. & that light is absorbed by the pigment (melanin) present in the hair follicles.
One of the critical challenges in laser hair reduction is distinguishing between the melanin in the hair and the melanin in the skin. However, advancements in laser technology and using different lasers have made the procedure safer and more effective for people with a broader range of skin tones. As the light energy is absorbed, by the hair melanin, it converts into heat at hair root level thereby damaging the hair follicle. It thereby leaves the surrounding skin and tissues unharmed due to selective targeting. Thus, ensuring that Kaya's Laser Hair Removal Treatment is entirely safe on the skin.
For hair roots to get deactivated laser light should reach the root which can happen only when air is connected to the root as it is in Anagen or active hair growth stage. Hair growth occurs in cycles, and not all hairs are in the active growth phase (anagen) at the same time. Therefore, multiple treatment sessions are required to target hair follicles effectively during their growth phase.
This treatment works wonders for every hair, especially for dark hair. This is because melanin absorbs laser light more effectively. The main reason for the effectiveness of the Laser Hair Removal Treatment is that it targets hair follicle stem cells, which are responsible for hair growth. So, by destroying these stem cells, the hair follicles cannot produce new hair. With multiple treatment sessions, the hair follicles in the treated area progressively weaken, reducing hair growth.
How Many Sessions of Laser Hair Removal Treatment Is Needed?
To get the desired results, the number of sessions recommended by our experts is 4-6, which may vary from person to person depending on various factors like the type of hair, skin, medical history, and sensitivity of the targeted area. While the initial sessions are scheduled a month apart, the later session may grow further apart. Sessions are dependent on the complete hair growth which keeps on reducing every preceding session. Once the minimum recommended sessions are completed, the expert may require you to come in for 1-2 maintenance sessions over 1-2 years.
Why You Should Get Laser Hair Removal Treatment at Kaya
Kaya's Laser Hair Removal Treatment is performed by trained professionals who prioritise safety and effectiveness. It is very effective for someone who wants to remove the hair on the chest, abdomen, legs, or upper body. Before the procedure, a thorough assessment of the patient's skin and hair type is conducted to determine the most suitable laser settings for an individualised treatment plan. This personalised approach ensures that each patient receives the best possible results.
With over two decades of experience, Kaya's Laser Hair Reduction service has become the gold standard destination across India for both men and women.
Using a US FDA-approved gentle & non-invasive Nd-YAG and Diode laser light technology, our hair removal treatment targets the hair follicles. It reduces your body hair from the roots without affecting the surrounding skin. It's suitable for all skin types, and we recommend a minimum of 6 sessions for the best results- smooth, hair-free skin.
To provide the best, long-lasting, and most effective results, we offer our expertise at Kaya by employing highly-skilled and seasoned Laser Therapists who undergo in-depth training before being certified to execute high-end laser treatment for hair removal technology & other services in our clinics.
Your safety & hygiene is our utmost priority. Hence, we take the utmost care to follow strict hygiene and safety standards at every Kaya clinic you visit.
Our Specialised Laser Hair Removal Treatment
Bringing you the ultimate hair removal solutions for the chest, abdomen, back, Arms & upper body, led by experts and scientific research. Kaya possesses state-of-the-art technology to meet your needs.
Underarm Hair Removal
Say hello to wearing sleeveless tops or raising your arms. Now, you can enjoy every moment with grace and confidence! Choose Kaya's Gentle Touch Laser Hair Removal treatment for smooth, hair-free underarms—no more hassle of regular waxing appointments or shaving.
Facial Hair Removal
Did you know that 1 out of every 10 women is concerned about their facial hair? You don't have to use tweezers or go through painful plucking anymore. Kaya's facial laser hair removal treatment boosts and prolongs confidence!
Bikini Laser Hair Removal
At Kaya, we offer a gentle, safe, clean laser treatment to remove hair from your bikini area (external genital region). With this treatment, you can achieve the perfect bikini line you want. This can prevent problems like razor burns, cuts, and infections in your private part.
Arms Hair Removal
No more cuts, burns, or stress from shaving and waxing! Choose Kaya's permanent laser hair removal to remove dark, unwanted hair on your arms.
Legs Hair Removal
Now you can wear your favourite summer dress, mini skirt, or casual shorts without any worries! Book Kaya's expert laser hair removal service for smooth, glowing, and hair-free legs on the go!
Permanent Body Hair Removal
Temporary fixes are no solutions! We believe in offering the ultimate best skin and care solutions that provide long-lasting rewards. Switch from the temporary hair removal methods to permanent laser hair removal.
Benefits of Permanent Laser Hair Removal Treatment
As a widely chosen & preferred hair removal method, permanent laser hair removal for various areas on your body, such as the chest, legs, back, underarms, facial, bikini areas, etc., here are the most prominent benefits of this pain & hassle-free treatment:-
Precision: Laser technology allows for precise targeting of individual hair follicles, minimising damage to the surrounding skin.
Painless & Safe: Using a US FDA-approved Nd-YAG laser, the body hair removal treatment at Kaya is a painfree, safe, and non-surgical process to remove hair from delicate areas like the face, underarms, bikini areas, arms & legs, etc.
Reduced ingrown hairs: Laser hair reduction can help reduce the occurrence of ingrown hairs, a common problem with other hair removal methods
No Major Side Effects: Laser hair removal avoids the regular hassles of shaving & waxing body hair and the common issues that come with it, such as cuts, bruises, burns, rashes, discolouration, etc. Kaya's laser hair removal is a precise method that leaves the surrounding skin unaffected with minimal to no significant side effects/risks. Expect some temporary redness, and that's about it!
Long-lasting results: With the right candidate and multiple sessions, laser hair reduction can lead to a significant decrease in hair growth, and in some cases, hair may not regrow at all.
Quick & Effortless: Depending on the body area being treated, laser treatment for hair removal takes barely any time and stands apart from the other messy & time-consuming methods.
Value For Money: Laser hair removal treatment is a one-time investment that offers long-lasting, rewarding results to enjoy hair-free skin! While the regular waxing or shaving charges build up over your lifetime, laser hair removal requires only a fraction of that time, effort, and energy!
The Journey with Kaya
Consultation
Our team of specialists at Kaya has 20 + years of experience & laser hair removal services.
Pre-preparation
Our specialists will examine your hair & skin during the consultation. To ensure that customers understand the procedure so they can make informed decisions, they may suggest certain precautions or activities to make the process hassle-free.
Treatment
Kaya Clinic has skilled experts using advanced technology. They will ensure that the process is carried out with great care and precision.
Post-procedure care
After the treatment, Kaya Clinic experts will tell you how to take suggestive steps post-session for optimum results. Experts will tell you the detail about the post-care routine and the need for a smooth post-session period.
FAQs
Does laser hair removal is safe?
At Kaya, we use a US FDA-approved Nd-YAG laser that's highly safe for Indian skin. The service targets the hair follicles to reduce your body hair from the roots without affecting the surrounding skin.
What are the risks of Laser Hair Removal treatment?
One of the critical highlights of getting a laser treatment for hair removal is that it is a relatively effortless and pain-free procedure. With close to 0 risks involved, here are some discomforts or challenges you might face post your laser hair removal treatment:-
You might experience temporary skin irritation, including redness or swelling, which should subside within few hours.
You might notice the areas that received the laser hair removal treatment have darkened or lightened. This pigment change can be temporary or permanent.
What are the side effects of permanent laser hair reduction treatment?
Permanent laser hair removal treatment at Kaya aims to facilitate a convenient & hassle-free therapy with minimal side effects. It usually has no grave, long-term side effects. However, here are some of the side effects that can be observed in some rare cases:-
Skin irritation & redness
Pimples/Folliculitis
Changes in skin colour or pigmentation
Burns and blisters on the treated area
Scars
Excessive hair growth around the treated area
How to prepare for facial hair removal treatment?
Here are some measures you can take to prepare for a facial hair removal treatment:-
Avoid Plucking, Threading, Shaving, or Waxing, as the hair needs to be visible.
Avoid Sun Exposure For 7 Days.
Avoid consuming any blood thinning supplements for 2 weeks before a treatment session.
Avoid smoking to prevent chances of bruising.
Check with your Kaya laser hair removal specialist if any of the products in your skincare routine interfere with the treatment results.
How long does the laser hair removal treatment last?
After completing all your permanent laser hair removal sessions, the treatment's results will last 2 to 6 years. You can undertake maintenance sessions to keep the treated areas hairless for longer.
Is Kaya's Laser Hair Removal Safe?
Kaya's laser hair removal is a safe and effective option for people looking to manage unwanted body hair. The treatment is scientifically-backed and expert-led, using an advanced US-approved laser machine that adds more confidence in the procedure's safety. Consulting with a qualified and experienced professional at Kaya is essential to determine if you are a suitable candidate and to ensure the process is conducted safely and effectively. Trained professionals assess individual skin and hair types and customise treatments for safety and effectiveness. Pre- and post-treatment care further ensure safe and successful results.
Client Review and Ratings
Great experience as of now
Friendly behaviour and On point Service. Happy Customer!!!
My experience at kaya has been really good. The technicians are well trained, make you feel comfortable and are very professional. The results have also been excellent.
After one year of receiving acne treatment at Kaya Clinic, I can confidently say it has been a great experience. The staff, especially the doctor, were excellent and provided exceptional service.
Great service! employee in this outlet, very trained and skilled.They took care to do the treatment at a comfortable pace, offered aftercare advice and suggestions on how to maintain after treatment
Good ambience, Dr very supportive and we'll behaved, service quality very good, thanks Kaya.
Great experience as of now
Happy and satisfied with the treatment and therapist are very supportive and helpful,also follow the safety hygiene very happy with the team work
The experience was really great. The treatment procedure is good and staff has been cooperative.
Great experience as of now
Professional, well-trained staff. Proper hygiene is maintained. Everyone ensured I had a comfortable experience.
The service is excellent! They really take care of their client. Love coming here
Great experience as of now
Amazing service ... with excellent staff.
Had a great experience with kaya.