1800-209-5292
Discover Botox Treatment to Reduce Wrinkles and Fine lines.
What is the process of Kaya Botox treatment?
Before and After Results of Botox Treatment at Kaya
Why choose Kaya's Botox treatment?
All you need to know about Kaya's Botox Treatment
Treat Wrinkles with a Specialized Botox Treatment
A trusted and scientifically proven solution to effectively treat wrinkles is designed to target fine lines and wrinkles; Botox is an FDA-approved cosmetic procedure that has revolutionized the field of aesthetic medicine. Our highly skilled and experienced professionals utilize precise and controlled injections to relax the underlying muscles responsible for causing wrinkles, resulting in a smoother, more youthful appearance.
What is Botox Treatment?
Botox, medically termed Botulinum Toxin Type A, is formed from bacteria which cause botulism. The Botox cosmetic injections temporarily reduce facial wrinkles, fine lines, and signs of ageing. A botox treatment is minimally invasive and is considered safe.
We address those signs of ageing through a non-invasive, non-toxic, and specialised botox treatment at Kaya Clinic. Botox is a popular choice for men and women who wish to reduce the appearance of wrinkles and frown lines, typically around the face. The treatment is 100% dermat-led, painless, and safe for Indian skin types.
What is the process of Kaya Botox Treatment?
At Kaya, the botox anti-ageing treatment is conducted in the following steps -
At first, the powder is diluted in the saline.
The mixture is then directly injected into the neuromuscular tissue of the affected area by a dermal expert.
The needle might pinch or sting, but most people do not experience any pain during the injection.
Depending on the area injection, the process can take a few minutes to hours.
Before and After Results of Botox Treatment at Kaya
Botox Before and After Precautions
The following are the precautions to be taken before and after the botox treatment.
Before the Botox treatment
The following are the set of precautions to be followed before getting the treatment -
Avoid smoking and drinking a week before your appointment
Avoid using any makeup products on the day of the treatment.
If you are prone to bruising, take bruise-prevention supplements at least 2-4 days before the appointment.
Avoid taking blood thinners, anti-inflammatory drugs, and other health supplements two days before the session.
After the botox treatment
After Kaya's botox treatment, the following are the set of precautions that must be taken -
Use an ice pack in the treatment area to alleviate discomfort and reduce redness.
Sleep upright for the first few nights after the treatment
Continue intake of the bruising supplements for a few more days after the treatment
The above post-treatment precautions are minimal. You must consult your skin specialist and dermal expert at Kaya Clinic to gain detailed insights into the post-treatment care you need to take.
Your Journey with Kaya
Consultation
At Kaya, our team of dermatologists understands the uniqueness of Indian skin by going through skin analysis to recommend solutions designed for the best efficacy.
Pre-preparation
In the consultation phase, based on the skin assessment, the dermatologists will recommend precautions or activities to ensure the procedure is smooth, successful, and hassle-free.
Treatment
Kaya Clinic's world-class hospitality, technology, and dermatologists will ensure the procedure is executed with care and precision.
Post Treatment Care & Maintenance
Once the procedure is done, based on the consultation and need for the treatment, the dermatologists at Kaya Clinic will recommend post-procedure care routines and precautions to maintain the results further.
Why choose Kaya for Botox Treatment?
While Botox Cosmetics in itself is an FDA-approved, one-of-a-kind treatment, what sets Kaya Clinic apart is the specialised treatment it offers. We have a team of experienced and certified doctors who specialise in facial anatomy to give you personalised solutions depending on your skin type for better long-term results. Moreover, Kaya provides a non-surgical, minimally invasive botox treatment to treat wrinkles and fine lines with minimal side effects.
All you need to know about Kaya's Botox Treatment
How does botox treatment work?
Botox, also known as Botulinum toxin, prevents nerve cell signals from reaching the muscles. This prevents the muscles from contracting, causing them to paralyse. The nerves then release acetylcholine at the meeting point of the nerve endings and the muscle cells to contract the muscles.
Do Kaya Botox treatments provide instant results?
No, the Botox treatment does not provide instant results. However, one can expect positive results within 3-4 days of their treatment, as their skin appears to make improvements. You can see the full effect around 14-15 days after the injection.
How often should you get Botox Treatment?
On average, a Botox treatment's effects last about 3-4 months. Hence, it's recommended to retreatment at this time. Your muscles are likely to train them to contract less. Thus, treatments can be spaced out over more extended periods.
Are there any side effects of Kaya's dermal fillers?
Kaya's dermal fillers have no major side effects except a little redness around the injected areas for some time.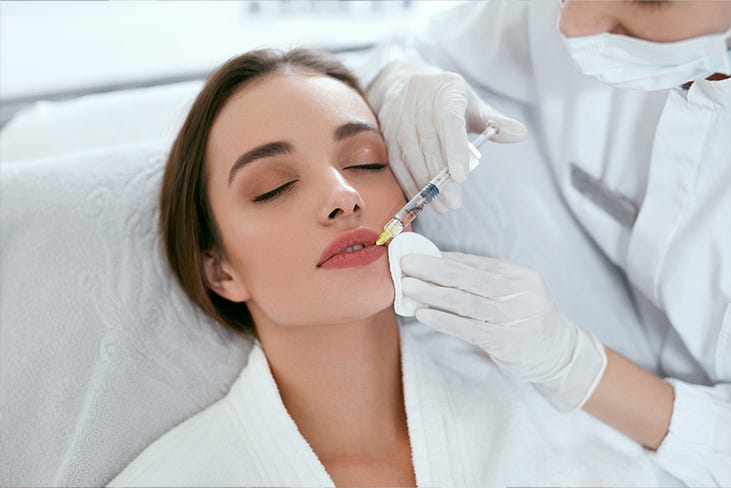 FAQs
Are there any side effects of Kaya's Botox treatment?
The side effects of Botox treatment may vary depending on the area which has received the treatment. But in general, the following are the possible side effects -
Pain, swelling, redness
Bruising in the treatment area
Headache.
For how long does Botox last?
Botox's effects usually last 3 to 6 months. After this time, muscle activity gradually returns to normal, and wrinkles may emerge. People frequently plan to repeat Botox treatments every few months to maintain the desired results. The length of effectiveness varies slightly from person to person.
What should you avoid after Kaya's Botox treatment?
There are some things that you should avoid after Kaya's Botox Treatment, and they are:
Avoid taking hot baths
Strenuous activities
Alcohol consumption.
Most people tolerate Botox injections well and have little discomfort. However, some people may feel uneasy. If this occurs, the doctor can apply numbing cream or cold things to the affected area to make it feel better.
Is Botox a safe treatment?
Botox is usually safe when administered by a specialist who can perform it correctly. It's been used for various medical and aesthetic purposes for a long time, and it's generally considered safe. However, like any medical treatment, there may be complications and side effects. That is why having a qualified doctor do it for you is critical.
No, Botox is not just for women. It is similarly efficient and safe for men who want to reduce wrinkles and fine lines and seem younger. Many men use Botox treatments to improve their facial appearance and lessen the indications of ageing. Botox is not gender-specific; individual cosmetic goals determine it.
Can I get Botox if I'm pregnant or breastfeeding?
Botox is normally not suggested during pregnancy or nursing since we don't know how safe it is. We don't know exactly what it will do to a developing or breastfeeding baby. If you're pregnant or breastfeeding and considering Botox, consult your doctor first. They can advise what is best for you based on your circumstances.
Can I return to regular activities immediately after a Botox Treatment?
You can usually resume your normal activities soon following a Botox treatment. There are a few things you should avoid doing within the first 24 hours :
Exercising: Strenuous activity can increase blood flow to the face, causing Botox to extend to undesirable places. Strenuous exercise should be avoided for 24 hours after your therapy.
Massaging Your Face: Massaging your face can also transfer Botox to undesirable regions. Massage your face for 24 hours following your treatment.
Lying Down: Lying down for at least 3 hours after your treatment can help the Botox settle into place.
Putting on Makeup: Applying makeup immediately to the Botox injection sites can result in an infection, so wait 24 hours before applying any.
What are the common areas treated with Botox?
Botox treatments are often utilised to improve the appearance of your face. They act on the forehead, the creases between your brows, and the wrinkles around your eyes to eliminate lines. They can also help with creases around your nose, lips, and chin and wrinkles on your neck. Botox can even trim your jawline and reduce perspiration beneath your arms. It aids with a variety of cosmetic difficulties.
Are there any age restrictions for Botox Treatments?
There is no specific age restriction for Botox treatments. However, it is usually recommended to people aged 18 and over who are experiencing wrinkles or fine lines that they wish to correct. Individual needs and aesthetic objectives should be onsidered when deciding on Botox treatment, and you must seek advice from a specialist doctor in your area of expertise.
Great experience as of now
Friendly behaviour and On point Service. Happy Customer!!!
My experience at kaya has been really good. The technicians are well trained, make you feel comfortable and are very professional. The results have also been excellent.
After one year of receiving acne treatment at Kaya Clinic, I can confidently say it has been a great experience. The staff, especially the doctor, were excellent and provided exceptional service.
Great service! employee in this outlet, very trained and skilled.They took care to do the treatment at a comfortable pace, offered aftercare advice and suggestions on how to maintain after treatment
Good ambience, Dr very supportive and we'll behaved, service quality very good, thanks Kaya.
Great experience as of now
Happy and satisfied with the treatment and therapist are very supportive and helpful,also follow the safety hygiene very happy with the team work
The experience was really great. The treatment procedure is good and staff has been cooperative.
Great experience as of now
Professional, well-trained staff. Proper hygiene is maintained. Everyone ensured I had a comfortable experience.
The service is excellent! They really take care of their client. Love coming here
Great experience as of now
Amazing service ... with excellent staff.
Had a great experience with kaya.